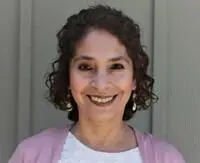 Since my high school years, my life passion has been to support and empower people who are struggling or looking for more joy in their lives. Growing up in a divorced family allowed me to experience the pain of separation and the realization that difficulties do not have to break us as individuals and families.
I was born and raised in Lima, Perú. Following my life passion, I graduated from the Catholic University of Peru in 1986 with a Bachelor's degree in Clinical Psychology. Wanting to further my studies, I immigrated to San Jose, California in 1989. I graduated from San Jose State University in 1992 with a Master's degree in Marriage, Family, and Child Therapy. During my internship experience at Alum Rock Counseling Center, I had the privilege to meet George Doub, LMFT, one of the founders of a psycho-educational program called: "Family Wellness." Becoming a Family Wellness instructor in 1991 was one of the most significant experiences in my life. It provided me with tools and skills that have been crucial in my personal and professional life. It also provided me with the answer to a question I had since I was a little child: "What helps people have a happy family?"
As a Licensed Marriage and Family Therapist, I have been providing individual, couple, family and group therapy since 1994. Being an immigrant myself, one of the biggest groups I have served has been the Latino immigrant population. However, I have worked with people from all types of ethnic and cultural backgrounds. One of the practices I enjoy most is working with interracial couples and families.
As a licensed clinician, I have had the opportunity to work in a variety of settings such as mental health agencies, Family Court Services, Department of Family and Children Services, community agencies, churches, etc. I have also enjoyed combining my therapeutic work with providing clinical supervision to mental health therapists and training instructors in the Family Wellness Model. Since 2002, I have traveled nationally and internationally training instructors in the Family Wellness model. In 2005, I became a partner for Family Wellness Associates. I have been working in Family Education since 1991, and I obtained the title of Certified Family Life Educator in 2010 through the National Council on Family Relations.
I have had my own private practice since 1995. Providing direct services is one of the most rewarding activities for me, I have a commitment to continue growing in my profession. Throughout my journey as a therapist, I have been trained in many different modalities such as psycho-dynamic, CBT (Cognitive Behavioral Therapy), Family systems, EMDR therapy (Eye Movement Desensitization and Reprocessing), Polyvagal theory, and Interpersonal Neurobiology. If you know me personally, it is very likely that you've heard me speak about Dr. Daniel Siegel. His research in attachment, interpersonal relationships, and his concept of "Mind" have profoundly influenced both my personal life and my style as a therapist. My latest professional endeavor includes becoming a certified IFS (Internal Family Systems) therapist (Level 3). Finding IFS has felt like coming home, and it continues to transform my personal and professional life in very meaningful ways.
My most recent passion is the concept of "Intentional Motherhood." In my journey as a therapist, I am constantly reminded of the incredibly important role that mothers play in the healthy development of the child. Although the health of a person is determined by many different factors, the love, and support (or lack thereof) that mothers provide are crucial factors in building resilience. I firmly believe that parents/mothers usually do the best they can with what they have. Therefore, my current dream is to support and empower mothers, in an atmosphere of kindness and compassion, to become aware of the pivotal role they play, and to intentionally engage them in practices that will bring out the best in themselves and their child. As part of that journey, I am currently working with Barbara Burns, Ph.D. (Santa Clara University Professor- Director of Child and Family Studies) in expanding her amazing program "Safe, Secure and Loved." This program provides tools and skills for mothers of young children. My contribution to this endeavor is the creation of the follow up component through "Listening Partnerships" and a monthly support group, which allow mothers to experience what healthy attachment feels like so they can be better equipped to provide that for their own children.
In the personal arena, I have the joy of experiencing a great marriage (great marriages to me are the ones who have gone through a crisis, and have come out stronger as a result) since 1994. I have two amazing daughters and a wonderful stepson. My hobbies include having deep conversations with my husband about the nature of reality, reading, going to the beach to recharge my batteries, traveling with my family all over the world, and playing regularly with friends and family.